With the torture of the sun reducing with every passing day, people coming down to this city of joy who are looking for a place to hangout, well here I am with my suggestions. Unlike the other articles showing the cultural side and the rich heritage of itellectuals hub, I am here with some off beat places to 'chill'.
1. Dhakuria Lake
One of the cleanest and freshest places in the city, this place is perfect for a romantic evening. No matter how sunny the day this, entering the gates of Dhakuria Lake, you would just be welcoming a sack of oxygen and eyeful of greenery. What is even better, is that this place is actually well maintained by the govt .and is also easily accessible. So the next time you are looking for a natural retreat, Dhakuria lake is the place you'd want to be in.
2. Jadavpur University Worldview
Now, amidst all the revolutionary minds, the budding engineers, the artsy stoners and the arguing intellectuals, Worldview is a place for ultimate chill, or as the city calls it, 'lyadh'. Unlike the crazy side produced on media, JU ambience is overly welcoming. The place where sharey teen (a three legged dog) and don (the dogfather) greets you with their constant tail wagging and puppy face. The ranges of topic discussed varies from political scenario, literature discussion, sports, music scenes and topping it all, jamming sessions.
3. Ahiritola Ghat
Now, the last two places named were somewhat modern, but here is Ahiritola Ghat. With other ghats being beautified with blue and white paints, new artworks etc, this place was left ignored. That, that is the plus point. The old world charm is enough to give you the chills. Indian Renaissance paintings on walls, Babas and localities busy smoking grass. This place is the apt place for jotting down new poems and songs. Also, number of boats and ferries cross the ganga and drop you off at Howrah, and
that ride is something no one should miss.
4. Tibetian Delight
Looking for a homely surrounding with decent fooding? Tibetian Delight in Rabinda Sadan is your answer. Aunty makes amazing momos and if you're lucky, you might just get to hear stories from her about her childhood and struggles. Keeping our in-city cuisine aside, a Calcuttan enjoys street Chinese the most. Now add good vibes to it, Tibetian Delight is the place to be.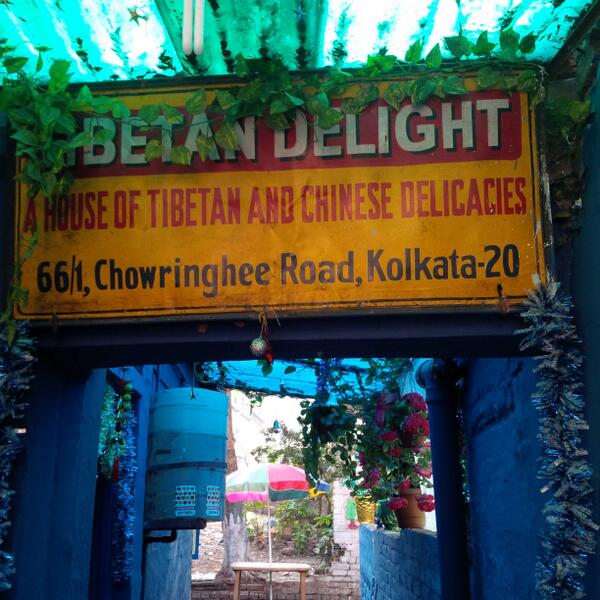 5. Paramount Cafe
Boasting about holding revolutionary minds and being the oldest juice joint in the city, Paramount Cafe was one of its kind when it opened doors amidst the caffe and tea cebtered adda minds. Sherbet will never taste the same after a drink at Paramount. Visited by college students mostly, this is a must on a street foodie's list.
6. Lawn on Sudder Street
Now, all these places were all amazing. All beautiful and good vibes. But now, this place, this place is my favourite in the city. A hipster place holding jams, freestyle rap sessions and of course, lyadh. The most essential thing, lyadh is at it's ultimate. Oh and, to all the save floating minds, yes this place is all chill about lighting up the doobie and having a good time.
7. Momo I Am
Well, here I am dealing with extremities. This Chinese joint near Lords' is a place buzzing with youngsters of all kinds. Especially those looking for a rather less expensive date with good music and amazing street vibe. With the owner being one of the biggest intiators of the Kolkata graffiti scene, the walls are nothing less than a New York street side. And the food, this is one of those places where quality is given top priority. Also, for the selfieholics out there, it is a pretty sick place for urban backgrounds.
8. Lake Gardens Warehouse
Right under the flyover, this worn out warehouse is the budding place for the young skaters, graffiti artist, dancers and cyclists. With the whole warehouse and surrounding walls painted with colourful and contrasting graffiti, this place is the closest that you can get to European subways. An amazing place for hanging around, getting good pictures clicked, working on your hobbies, this place is all about chill and stability. Mainly visited by youngsters this place is also great for an evening walk.
9. Princep Ghat
Yes, I had to name this place. Let's face, atleast once you have wanted to visit this place Be it just out of curiosity or even for a new profile picture clicked by pseudo photographer friend zoned guy. Princep Ghat is one of the most romantic places you'll ever be in Calcutta. With the Ganges showing off her beauty and lush green grass, this place is the more urban and adaptive version of grounds Tagore and Ray used to write about. And here is a tip, if you land up there ever with your girl, don't forget to take a walk till Esplanade. One of the best walks in the city
10. Esplanade to College Street tram ride
Now now, calm down. I know what you're thinking, this is it. The best of the best. It is like one of those things which you have to do when you're in Kolkata. A tram ride is necessity. And why the Esplanade to College Street ride? Because I prefer the transition you get to see, the modern to the old Calcutta. As eye candy as it is, no matter which route you choose, a Kolkata tram ride will always be hearted.
So yes, this is the list of top 10 places to chill in Kolkata. To better addas and modern youth gatherings, this is for all the lost teenagers looking for a place to chill. Or, with the current weather, lying down at your place with good music and good people around you is also acceptable. Cheers!
AUTHOR-
Jyotishika Paul